Patient Comforts
Office Amenities at our Cornwall Dental Office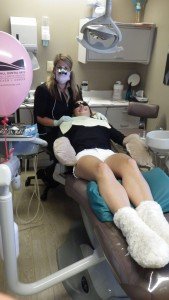 Going to the dentist in the Cornwall ON community has not always been your favorite thing to do. We know this. So our Cornwall dentist and team have implemented a variety of patient comforts that we hope you will enjoy during your visits with us. These patient amenities can not only make you feel pampered and special, but they may even relax you. Who knows? Maybe with all these patient comforts, you will really start looking forward to coming to our office in Cornwall ON if you live or work in the Cornwall, Long Sault or Ingleside ON area! We hope so.
WE PROVIDE MANY PATIENT COMFORTS INCLUDING:
Massage pads in the chairs - We know sitting in the dentist's chair is the proverbial discomfort scenario. So as one of our patient amenities, we have massage pads on the chair. You may even look forward to your time with us to get a lovely massage!
Warm blankets - Nothing feels quite so comforting as a warm blanket covering you while you relax. We want you to feel comfortable, so warm blankets are one of our favorite patient amenities.
Hot towels after appointments - Once your visit is over, we offer you hot towels to sponge your face and hands. It lets you feel like you are in First Class on an airplane.
Virtual vision glasses for TV - For our patient comforts, come and watch your favorite TV show or movie. Put on our virtual vision glasses and fall into a great show.
Free WiFi for patients in the office - While you are waiting to see one of our friendly, well-trained team members, one of our patient amenities is free WiFi. Bring your laptop or other device and you can stay connected as you wait.
We are happy to offer our spa treatments and other patient amenities as part of your dental experience. We want you to actually enjoy your time here and with our patient comforts, we are hoping this is exactly what will happen! Call today!