Sedation Dentistry
NITROUS OXIDE IN CORNWALL, ON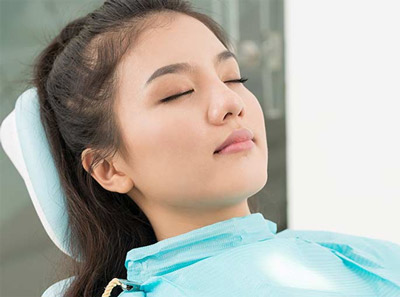 One of the main reasons why patients don't visit their local dentists periodically is due to fear. Sometimes it can be the fear of needles, drilling, pain, or noises that prevent an individual from visiting the dentist. Even bad or painful experiences at the dentist can influence an individual's decision to return.
Dentistry practices has evolved over the years to combat dental anxiety and offer safe techniques to relax patients before a procedure. This is where Sedation Dentistry comes in.
Sedation Dentistry involves the implementation of medication to calm the patient before a procedure. Sedation methods range from oral medication to nitrous sedation.
WHAT IS NITROUS SEDATION?
Nitrous oxide – commonly known as "laughing gas" – is a colourless and odorless gas that slows the body'''s reaction time when inhaled. It is a popular sedation solution amongst dentists because it is easy to administer and reduces anxiety for most patients.
Before a procedure, the gas is typically administered through a mask placed over the nose of the patient. With appropriate dosage, the sedation effect will kick in resulting in the patient becoming more relaxed. Typically, with laughing gas the patient remains awake and can recall the entire procedure.
Depending on the dentist or type of procedure, oxygen is provided either with the nitrous oxide or after the procedure. Oxygen helps to clear out any remaining nitrous gas in the body and assists in regaining alertness. It also helps with preventing a few possible side effects such as headaches.
Nitrous sedation is the only sedation option where patients can drive safely after a procedure.
WHAT ARE THE SIDE EFFECTS OF NITROUS OXIDE?
Like most drugs, nitrous oxide can cause a few short – term side effects after use. Some include:
Excessive sweating
Shivering
Vomiting
Dizziness
Fatigue
Nausea
HOW DO I KNOW IF NITROUS SEDATION IS RIGHT FOR ME?
Nitrous oxide is beneficial for individuals who have experience at least one of these scenarios:
Avoided visiting the dentist due to fear or anxiety
Have extremely sensitive teeth
Afraid of needles, drills, and loud noises
Have difficulty getting numb through "freezing"
If you feel like you fit some of these scenarios, then nitrous oxide may be right for you. However, the best way to know is to discuss with a dentist.
If you want to visit the dentist but have dental anxiety, call us today at our Cornwall office and ask about our sedation dentistry options. Our Cornwall dentist and team will help make your experience pain-free as possible to achieve the best results with your smile.