Porcelain Veneers
GET PORCELAIN VENEERS FOR TEETH WITH A CORNWALL DENTIST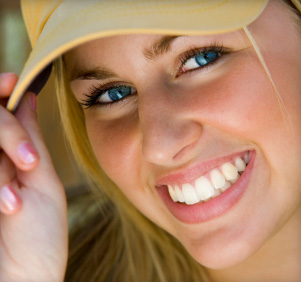 Have you ever seen someone else's brilliantly charming smile and wished that you could be just as confident with yours?
Smiles are a major part of a first impression, and it's very easy to be self-conscious about those impressions. The good news is that modern technology and dental procedures have made dazzling smiles easy and accessible.
Porcelain veneers are one of the most popular ways to transform your teeth and enhance your confidence.
HOW DO VENEERS WORK?
Veneers are a simple and straightforward treatment. A thin shell of dental porcelain will be crafted to your exact specifications. That layer will then be attached to the outside of your tooth.
It really is that easy.
The benefits are great, as well. For example, the fine dental porcelain will resist staining and reflect light like natural tooth enamel.
Should you desire a little tooth whitening, veneers can be color-adjusted to the shade you want. Should you have a slightly crooked tooth or small gap, veneers can cover these with ease. On top of all the other benefits, veneers also add an extra layer of protection between your teeth and the outside world, keeping them safer and more secure.
WHAT DO I HAVE TO DO?
If you're considering veneers, the first thing you can do is schedule a consultation with a Cornwall cosmetic dentist at Cornwall Dental Arts. He'll review your records, talk with you about your vision for the perfect smile, and discuss your many options so that we can make that vision a reality.
Once our team has built this treatment plan, we take an impression of your teeth. This allows us to craft your veneers to the precise statistics and needs of your mouth. You'll wear temporary veneers while the ceramist handcrafts the porcelain veneers.
Finally, we remove the temporary veneers and permanently affix each custom-crafted dental veneer in place. In only two visits, you will attain a vibrant, gorgeous smile designed to last for years.
We are happy to offer porcelain dental veneers to all of our patients in the Cornwall, Long Sault, Morrisburg, and Ingleside areas in Ontario. Give us a call at our Cornwall dental office today to learn more!